HRA Announces New Webinar Series with Industry Professionals and Thought Leaders
HRA is excited to announce an new series of webinars featuring some of the most innovative, knowledgeable and experienced minds in medicine, insurance, technology, and more throughout the field of healthcare.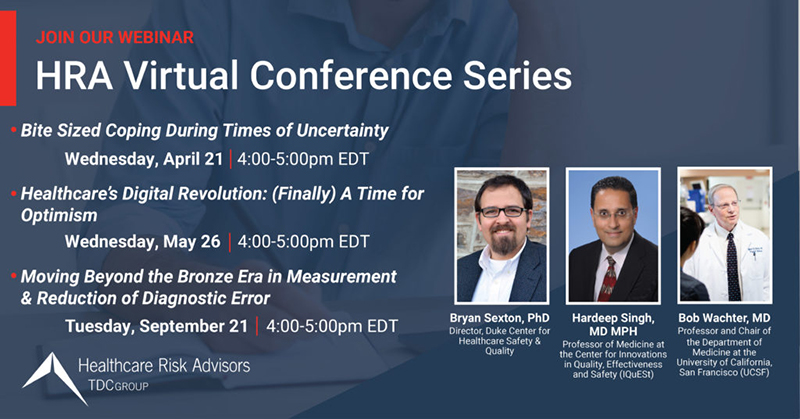 The series kicks as we sit down with a panel of experts to discuss how COVID19 has affected New York healthcare providers, changed the way we deliver healthcare, and the potential impact of the pandemic on medical malpractice claims. A recording of this session is available here.
The second entry in the series (Bite Sized Coping During Times of Uncertainty) will take place April 21st and feature Bryan Sexton, Ph.D. and expert on safety culture, teamwork, and workforce resilience. Dr. Sexton has studied the way teams operate under strain in high-risk environments such as aviation cockpits and operating rooms, has seen his research used in over 30 countries, and has had his research funded by the NIH, NASA and others.
HRA's third webinar (Healthcare's Digital Revolution: Finally, A Time for Optimism) is set for May 26th, where we will be joined by Bob Wachter, MD. Dr. Wachter is a professor and the Chair of the Department of Medicine at the University of California, San Francisco, a department which leads the nation in NIH grants and is generally regarded as one of the nation's best. Wachter is considered the father of the "hospitalist" field – the fastest growing medical specialty in the U.S.
For the final webinar in the series (Moving Beyond the Bronze Era in Measurement & Reduction of Diagnostic Error) on September 21st, HRA is proud to feature Hardeep Singh, MD MPH. Dr. Singh is a Professor of Medicine at the Center for Innovations in Quality, Effectiveness and Safety (IQuESt) based at the Michael E. DeBakey VA Medical Center and Baylor College of Medicine, Houston. In this role and throughout his career, Dr. Singh has lead research efforts aimed at improving the use of technology to make diagnoses and reduce errors.
For more information, and to register for the webinar series, please visit: https://www.healthcareriskadvisors.com/hra-virtual-conference-series/
Missed the first webinar in the series? Watch it on-demand here.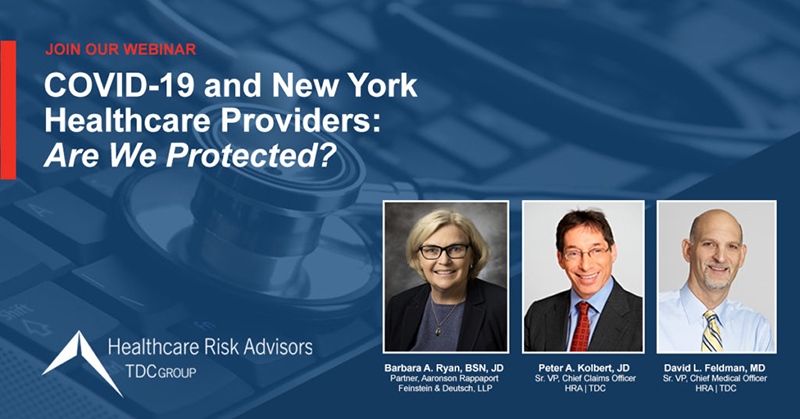 On-Demand Webinar – Covid-19 and New York Healthcare Providers: Are We Protected?